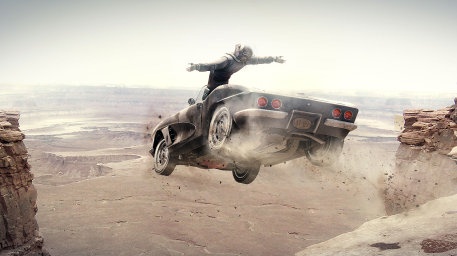 Big Boss Surveyor
I want to be a risk surveyor.
There is a stigma around the role that it is predominantly a man's job, that you must be nearly in the grave, and that you need buliding expertise, I'm out to prove everyone wrong. I want to achieve this career path while I'm still able to walk unassisted, as a female, and without having built anything from scratch.
There will be something very liberating about being able to get in a car and drive. Although I believe the job will be incredibly challenging I feel the rewards will out weight the challenges second to none.
What appeals most to me is the underwriting skills that it the job requires, the face to face contact, and not being tied to a desk with a fixed schedule. There is opporunity to pass on knowledge and skills when taking CSA's (like me today) out on the job which is attractive and will appeal to my ego but visiting vast amounts of businesses and meeting the people who run them will be the most rewarding.
The potential for taking my work home and typing up reports from he comfort of my living room has a huge sense of freedom attached and I have always done better with self motivation rather than working to a schedule that someone else has set for me.
The fact that I can get in a car and blast some Manson all day in between the assessments is exciting and will be a complete change from being surrounded by the work place gossip that I have become accustomed to, (not to say that I don't enjoy a good bit of gossip).

Necessary resource sets

Time is going to be the biggest factor when going down this carrer path. It will take time to get enough skill, time before any job relating to this field pops up, time to become competent.
Commercial knowledge will be another big necessary resource. Becoming a CSA for FI Commercial is the first step towards my ultimate goal but there are many other roles in between. I need to get level two delegations minimum and a confidence in underwriting commercial products. Other roles in between here and surveying may include becoming a broker, account manager, underwriter? I'm not 100% sure on what the best path will be yet.
Coaching and support from managers, team leaders and underwriting coaches is a must. I need to know what I am doing well and what I need to work on. They will be able to help me assess the best path forward as well.

Where are you right now?

I have achieved the first step in my ultimate working plan. I have landed a commercial insurance job and love it. Am learning new things everyday and achieving well.

Obstacles or limitations

Age, no building experience, gender.
These factors won't really stop me though.

Sinead Livingston